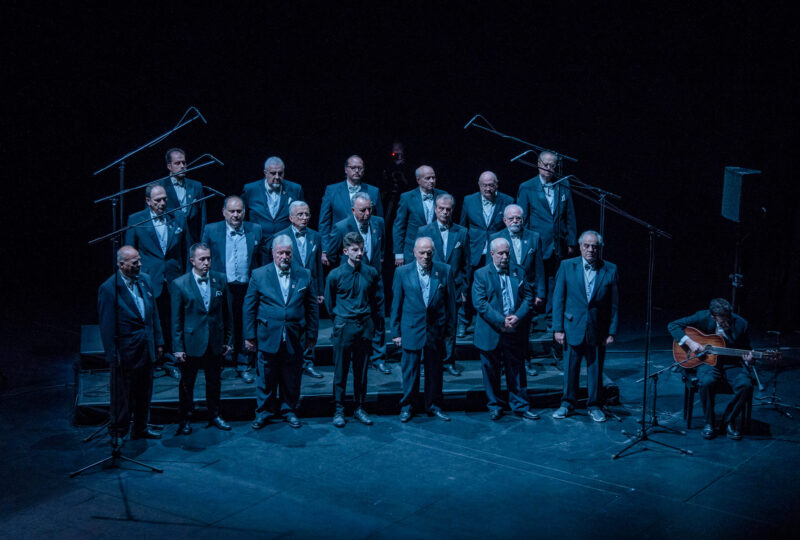 George
Efthimis Filippou Angeliki Papoulia Panagiotis Melidis (Larry Gus), 2023
Ladies and gentlemen, my darling children, it's been two whole years since I first heard this here story. It all began quite suddenly.
It had rained the day before, but on that day, the day it all suddenly began, the weather was fine. He was working in his office. His first name was George and his middle name was Thomas.
The story centers on the final days in the life of a man, George, that falls ill suddenly, and dies quite suddenly too. It unfolds like a surreal spell that tackles the inescapabilty of death, and is punctuated by musical interludes sung by a large male choir.
Script: Efthimis Filippou Artistc Direction: Efthimis Filippou Angeliki Papoulia Panagiotis Melidis (Larry Gus) Translation: Kyriacos Karseras Music: Panagiotis Melidis (Larry Gus) Narrator: Angeliki Papoulia Percussion: Manousos Klapakis Light Design: Thimios Mpakatakis Costumes: Vasileia Rosana Sound: Brian Coon Hair / Make up: Evi Zafeiropoulou Production Services: Fani Skartouli Photos: Andreas Simopoulos
Performers: Panagiotis Melidis (Larry Gus) Angeliki Papoulia Manousos Klapakis Corfu Men's Choir Alkinoos Theodoros Papagianellis Giorgos Lourotos
Production: Onassis Stegi